Women and their Pastimes
The floor covering in this room is original to the Tampa Bay Hotel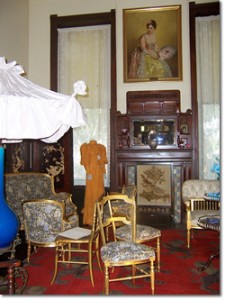 This vignette room reflects the variety of leisure activities available to the Hotel's female guests. Many ladies joined their husbands on hunting and fishing trips and were seasoned outdoors-women, adept at riding and shooting. 
More sedate pastimes included afternoon concerts in the Music Room, tea in the garden,  needlepoint, reading, quiet conversation, or a relaxing stroll along the Palm Walk on the banks of the Hillsborough River.
The floor covering in this room is original to the Tampa Bay Hotel and was used in the Grand Salon and Gold Room.  At the far corner of the room, you can just catch a glimpse of a shared bathroom.