Learn
We provide hands-on learning opportunities by allowing students to explore authentic Victorian items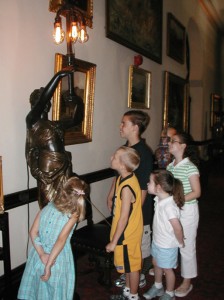 Discover the Gilded Age in 19th century Florida: experience life in the lap of luxury at the Henry B. Plant Museum, a National Historic Landmark.
The Henry B. Plant Museum, housed in the elegant former Tampa Bay Hotel, (now The University of Tampa) interprets the turn-of-the-century lifestyle of America's Gilded Age (1870-1898) and the life and work of Henry B. Plant.
Architecturally, the Tampa Bay Hotel is one of the most fanciful creations of the late Victorian period, a time marked by vast commercial and industrial wealth which came to be known as the Gilded Age. Built by railroad magnate Henry Bradley Plant, the Tampa Bay Hotel opened in 1891 as a winter resort for the monied class. The Hotel gained international recognition in 1898 when it was the headquarters for the U.S. Army during the Spanish-American War. The Hotel and grounds hosted officers and enlisted troops, including such notables as Lt. Col. Theodore Roosevelt and the Rough Riders, Mrs. Roosevelt, Clara Barton, Richard Harding Davis, Stephen Crane, and Frederic Remington. This magnificent building has survived for more than a century, and now flourishes as The University of Tampa and home of the Henry B. Plant Museum. A National Historic Landmark, it is the premier architectural symbol of Tampa.
Field Trips: During our docent-led tours, students visit the 15 rooms of the Museum (original guest rooms and public rooms) and may tour the former Hotel Music Room, Grand Salon, and Dining Room (now part of UT). We provide hands-on opportunities by allowing students to explore authentic Victorian items. We also offer a live theatre performance for groups of 50 students or more. The entire field trip experience takes about 2 hours. *Appropriate for grades 3 – 12.
We have designated dates for field trips. Request a field trip by clicking on Book a Field Trip under our website's Schools link. You will receive confirmation within a few days of submitting your request. A pre-visit packet will be sent to you prior to your field trip to ensure students are well prepared for their Museum experience.
For more information about field trips, click the Teacher's Page link or contact Heather Trubee Brown, Curator of Education, at 258-7304 or htrubee@ut.edu.
Don't miss: TRIPLE WHAMMY FIELD TRIP PACKAGE with Ybor City State Museum and Florida Museum of Photographic Arts. See the Teacher's Page for more details.
Our field trip enhances the teaching of the following Sunshine State Standards for Social Studies, grades 4-12:
4.A.1.1, 4.A.1.2, 4.A.4.1, 4.A.6.1, 4.A.6.3, 4.A.6.4
5.A.1.1, 5.A. 6.3
8.A.1.2, 8.A.1.7, 8.A.4.5, 8.A.5.7
912.A.1.3, 912.A.1.4, 912.A.1.7, 912.A.3.2, 912.A.3.3, 912.A.3.4, 912.A.3.6, 912.A.3.13, 912.A.4.3