Henry B. Plant Biography
The significant contributions to the development of Florida and Tampa Bay are why Success magazine dubbed Henry Plant "the King of Florida" in 1898.
---
"Mr. Plant is one of those remarkable men who master all conditions and create environment.  He is a builder – a creator.  A whole State blossoms at the touch of his magic wand."
Atlanta Constitution, October 28, 1895
---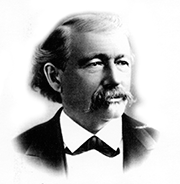 Henry Bradley Plant (October 27, 1819 – June 23, 1899), founder of the Plant System of railroads and steamship lines, was born into a modest farming family in Branford, Connecticut. At the age of six, he lost his father and younger sister to typhus fever and was raised by his mother and grandmother.  Hard work and Puritan values molded his character.
Henry began his professional life at the age of 18 working as a captain's boy for the New Haven Steamboat Company that ran between New York and New Haven.  He married Ellen Elizabeth Blackstone in 1842.  The couple had two children, but only Morton Freeman Plant survived to adulthood. Plant demonstrated acuity for the express shipping business and moved up the ranks in the shipping company. He eventually secured a position in the Adams Express Company's New York office.
In 1854, Henry and Ellen moved to Augusta, Georgia where he was appointed to the superintendent position for the Southern Division of the Adams Express Company. At the outbreak of the Civil War in 1861, the Adams Express Company sold their southern express line holdings to Henry. Plant reorganized and renamed it the Southern Express Company, with rail lines running through Virginia, North Carolina, South Carolina, and Georgia.  In that same year, Plant lost his wife Ellen.
After the Civil War, Plant returned to New York where he later met and married Margaret Josephine Loughman in 1873. Henry immersed himself in his network of southern railroads and began purchasing bankrupt railroads in 1879. As he linked these lifelines of the South, he began to work his way into Florida. Plant understood the potential and opportunity waiting to be realized and that a network of railways was the key. He opened the Waycross Short Line in 1881, a short cut between Waycross, Georgia and Jacksonville, Florida, taking the first steps toward opening the state.
In 1882, Plant formed the Plant Investment Company (PICO) headquartered in Sanford, FL. With the investment support of PICO, whose investors included Henry 
Flagler, M.K. Jesup, and W.T. Walters, Plant acquired existing rail lines and laid new track, enabling the first steam engine to arrive in Tampa in 1884.  As he linked and laid more than 1,196 miles of tracks across the state, he standardized his network with standard gauge track, increasing ease and efficiency of train travel.
Rail travel wasn't Plant's sole focus during the 1880s.  He purchased the People's Line of Steamboats that sailed along Florida's rivers.  By 1890, he began to develop the Plant Steamship Line sailing between Boston, Halifax, Cape Breton, and Prince Edward Island.  Plant's international transportation empire was taking shape.
Meanwhile in Tampa, Plant extended the rail line from the city to Port Tampa, dug out the channel, extended the dock, and built up the port to accommodate steamships and their high volume of traffic. By 1889, the deepwater terminal secured Port Tampa's position as a major transportation hub in the Western Hemisphere. These improvements benefited the Plant Line that sailed from Tampa to Havana, Mobile, and Jamaica.  Plant secured the U.S. mail contract for the West Indies route between Port Tampa, Key West, and Havana.
Plant branded his network of railroads and steamship lines The Plant System. The Plant System was the most profitable transportation network in Florida during the 1880s and 1890s, connecting Florida producers with Eastern seaboard consumers.  Industries such as citrus, celery, lumber, and phosphate flourished across the state as The Plant System provided rapid, mass transportation of goods. Plant's network of railroads and steamships enticed many industries to Tampa, most notably Vicente Martinez Ybor's cigar industry.
Thanks to the Plant System, Florida's young tourism industry also boomed as the untamed wilderness became more accessible to travelers seeking the healing properties of the temperate climate, refuge from harsh northern winters, and a romp in the exotic landscape.  Plant's eight hotels throughout western Florida provided tourists with luxury accommodations in a tropical haven.  His first hotel was The Inn at Port Tampa.  His grandest and most opulent hotel was the Tampa Bay Hotel, which opened in 1891.  Today, the Tampa Bay Hotel, which houses the Henry Plant Museum, and the Hotel Belleview near Clearwater still stand.
Plant's genuine interest in the development of Florida is evident in each element of the Plant System.  He constantly promoted 
Florida's attributes at world's fairs and expositions and published thousands of promotional materials to advertise Florida and its attributes.  He displayed Florida's goods in Paris during the Universal Exposition in 1889, in Chicago at the World's Columbian Exposition in 1893, and in Atlanta at the Cotton States and International Exposition in 1895.
These significant contributions to the development of Florida and Tampa Bay are why Success magazine dubbed Henry Plant "the King of Florida" in 1898.  At that time, no other person had dedicated as much time, energy, and money to the advancement of Florida.  Plant's lasting legacy was 
foreshadowed by J. W. Fitzgerald in 1895 when he stated, "The Plant System…a monument to [Plant's] memory [is] more lasting than brass and more enduring than marble."  Much of Plant's legacy can be seen today.  Cities such as Plant City, Sanford, Auburndale, Trilby, and Port Tampa attribute their development to Henry Plant.  Streets in Tampa and Port Tampa bear the names of Plant family members and Plant System officers. Today, much of the Amtrak and CSX rail lines that run through Tampa are formerly Plant System rail beds.  Morton Plant Hospital, the first hospital in northern Pinellas County, was named for Plant's son.  H. B. Plant High School opened in 1926.  In 1933, The University of Tampa moved into Plant's former Tampa Bay Hotel, now a National Historic Landmark.  Plant Park, Tampa's first public park, continues to offer a relaxing refuge along the Hillsborough River. Not only are the minarets of the Tampa Bay Hotel the premier architectural icon of the city, the City of Tampa seal bears a rendition of Plant's steamship the Mascotte.