The Parlor Suite
Directly under a minaret, the Parlor Suite is perfectly located to catch cool cross breezes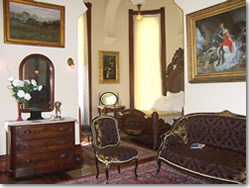 Mr. and Mrs. G. W. Bergner have recently checked into one of the most luxurious accommodations available at the Tampa Bay Hotel – this three-room suite with hallway and private exit to the gardens. They are here for the 1895 season to escape the cold of Philadelphia.
Mrs. Bergner is delighted with this highly desirable suite with the particularly lovely music room. She knows that Margaret and Henry Plant's private rooms are on the far end of this same porch, and from this vantage point she can observe other guests rocking on the veranda or strolling in the park.
The carved Victorian double bed, directly under a minaret, is perfectly located to catch cool cross breezes. Mrs. Bergner appreciates the fine silk fabric on the sofa and chairs, as well as the Oriental carpets and original oil paintings.
Mr. Bergner prefers his Parlor Suite library room. It's a comfortable masculine spot to study paintings from the Paris Exposition, read books on Florida wildlife or enjoy the collection of Wedgwood jasperware.